It's that time of year! It's the start of a brand new year and it's time to take a look into the future of some of the biggest opportunities to take advantage of this year. Now, something can always pop up suddenly in the midst of the year that ends up being revolutionary, but barring something extreme, these are the six big trends you can expect to change how your church operates in the future…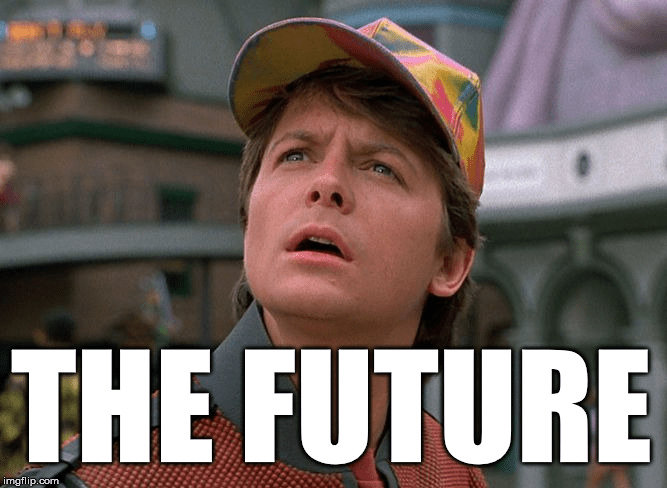 Some of these trends are related to demographics and behavior, while some are technology. You'll likely want to explore all of them to some degree this year.
1. It's the year of the Gen-X Gen-Z alliance
I've said it before and I'll say it again, the church has remained "Boomerized" since the 80's. Some churches did crop up that were Gen-X friendly, but for the most part, Gen-X was skipped altogether in favor of Millennials. Gen-X and Gen-Z have a lot in common, I jokingly refer to Gen-Z as "Gen-X 2.0" because most fashion, trends, and attitude toward authority for Gen-Z so far have been rehashes of Gen-X. Gen-Z is particularly keen for mentorship from Gen-X because Gen-X largely knows how to speak "Gen-Z" instinctively (funny enough, Millennials really struggle to understand Gen-Z). Similarly, even though they entirely distrust authority… even yours as their pastor… Gen-X are known for adaptability and being good team leaders in the workplace, which makes them key volunteers in helping transform the church to engage Gen-Z.
This year, be on the lookout for the 43-60 Gen-X'ers, you'll know them when you see them, they are the ones that could quote Fight Club and Office Space just as easily as scripture, and share a vision about reaching a young disaffected generation anxious about their future. They'll sympathize and get them on board with reaching Gen-Z.
2. Short-form vertical video will trounce livestreaming
So, during 2020 everybody livestreamed church services. A lot of churches have pulled back on livestreaming, which is fine, since church livestreams of the regular physical service probably don't really mesh well with the calling of your local church. Place less importance on livestreaming in 2023 and put more emphasis on short-form vertical video content. While the aforementioned Gen-Z love it, Millennials and Gen-X have also taken to short-form vertical video in droves. It's also heavily incentivized on platforms like YouTube.
This year, take all the questions people ask you and just shoot answers to those questions via your smartphone… it will be immensely helpful to your congregation and they will share those short videos with their friends/family/coworkers when they get asked about that question. Your church will grow if you start doing weekly short form videos as part of your discipleship and outreach strategy.
3. Volunteers need a "why" more than ever
Volunteering has been dropping off considerably. Part of that is the Boomer "demographic bomb" which, as Boomers age, Gen-X are far too small of a group to take up everything the Boomers did. The rest of it is that Gen-X, Millennials, and Gen-Z are not motivated the same way that Boomers were in their volunteering. Gen-X want authenticity and to be on a mission, Gen-Z are searching for something real amid an online world of slacktivism, and Millennials have always wanted a bigger purpose to the work they do. This means you can't keep the same "how" and "what" programs of the past, you have to trim them all down to the ones that fit the "why" of your church and communicate, communicate, communicate! Be specific in your "why;" yes, the church globally has a "why" to reach every tribe, every tongue, and every nation, but your church has been gifted and called to a specific "why" within that larger one and if you get everyone on board, you will have more volunteers than you know what to do with!
This year, be very purposeful in closing down ministries that don't make sense anymore and restructure every ministry and project to be able to fulfill your church's specific mission for this period.
4. Using AI to help with content generation
Artificial intelligence (AI) is a hot topic right now. A lot of people are playing with it, there's a ton of conjecture about how big of a societal impact it will have, but where will it actually benefit the church? For the most part, it will become very valuable in assisting with content creation. I expect we will see more use of it for blogging and social media, both on the creation side as well as on optimizing post timing. We should not discount its use in writing copy for advertisements and websites. Finally, I do expect AI image generation to become useful in 2023. The main risk is losing your distinctiveness in the content (if it ever had any at all… let's face it, you could probably swap the content for First Baptist and First Assembly nine times out of ten and nobody would notice 😉).
This year, consider how you can prompt AI to magnify your church's distinctiveness. Is your church mostly geek-chic? Maybe you want to leverage prompts to include pop-culture references and even create funko-pop versions of the staff for the staff page. If you don't know what makes your church distinct, it's time for prayer and discernment.
5. Robotic process automation
Now, robotic process automation (RPA) has about the most unsexy appeal of all the trends; however, it's probably one of the lowest hanging fruits that can make the biggest impact in how well the church is run. It has been around for a while, but it continues to grow in importance. The reason it's so important, especially now, is that ministry processes can actually go through an automation system to make sure things are completely quickly and accurately with minimal staff intervention. For example: you get a newcomer who registers their kids at kids church, they get added to the email list and tagged as parents of kids in kids church, a personalized video task is created for the kids ministry pastor to welcome the family and ask if they have any questions, and an automated email drip is started in order to further engage the family. It's a pain to do that by hand for every process, but RPA can scale it up and make your church incredibly effective.
This year, look for the repetitive processes you, volunteers, and staff are engaging in that could be automated through Microsoft Power Automate, Zapier, N8N, Pabbly, Make, or the like. Start with simple flows and don't be afraid to consider how RPA can be used with other trends like cloud/SaaS, AI, and video.
6. More shifts to "cloud" and SaaS solutions
SaaS isn't new, but it continues to have a big impact on businesses and churches. In terms of ROI and ROO, it usually makes sense for churches in particular to move everything they can to Microsoft 365, Azure, Canva, Mailchimp, and other similar services. Unless you have a megachurch or a substantial media ministry, you should not have any of your server or storage resources physically present at your church office. The best solutions will be ones that allow for monthly commitments that are adjustable depending on the number of staff or size of the congregation so you can adjust your usage should your staffing need to contract or expand.
The ideal place to start would be making use of Microsoft Teams and making sure you have a church management system (ChMS).
Final Thoughts
I realize there's a fair amount there to digest, but ultimately, the gospel doesn't change. It's still about making disciples by baptizing converts and teaching them to obey all that Christ commanded. These generational observations and technology trends should always be implemented or leveraged in service to that goal. I wouldn't try to start all of them at once, but make a plan that over the next six months you will dive into one of the trends and gain deeper adoption of them.