I'm a huge fan of small groups. My first ministry gig was in a "small groups church" where the mantra was "we don't care if you show up on Sunday, but you really need to attend your small group!" It's one of the things that made that church radical and transformational… we were seeing 10~15 baptisms a week as we grew from a scrappy little church plant in rural Idaho into a mega church… but that's a story for another day!
Speaking of small groups, one thing I've noticed lately is that a lot of small groups that had gone online only during the pandemic saw a lot higher attendance during that period than they've seen before or after. Now, while I would still argue that for the average church, your online ministry strategy should be digital as a pathway into the physical, there is a real need for small groups that meet weekly online.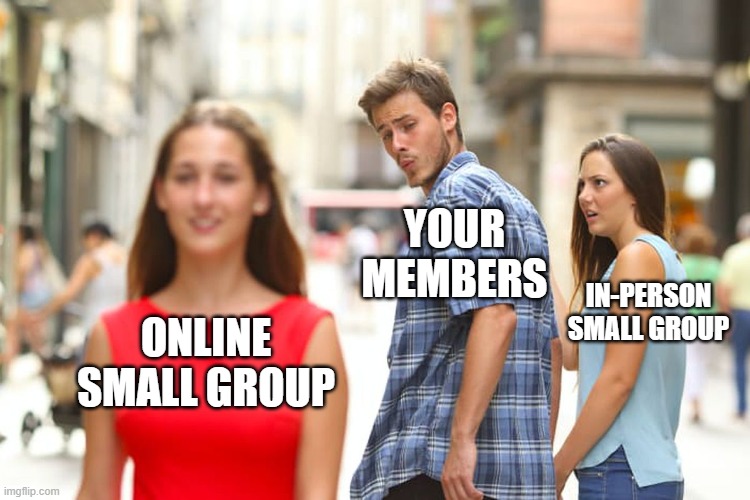 Okay, so let's do some online small groups… we still want these to fit our overall strategy of digital as an on-ramp to in-person engagement… so how do we get started?
1. Don't abandon "in, out, and up!"
Every church needs to decide why they do small groups, is it for growing Christian community (in), outreach (out), or worship/equipping/discipleship (up)? That's not to say other things won't happen, but you need to have your groups and their members on the same page for what the weekly small group is primarily focused on!
2. Do a weekly recurring meeting in Teams.
There are loads of platforms you could use to host your online small groups, but I would encourage you to use your Microsoft 365 donations to have a recurring meeting in Teams. That way if a leader or host is out of town or leaves the group, things go on as usual and you can also get direct analytics about attendance of your online small groups.
3. Take things "IRL" now and then.
Digital leads to physical, so make sure there are physical world events. This is where you can break into a different facet of "in, out, and up" as well. If your group is primarily about equipping or "up" then you might have a quarterly BBQ for community building or building the "in" aspect. Conversely, if the group is mostly focused on "in" then that BBQ might be an "out" or outreach event. You don't need every type of event per se, but you do need groups to complement how your church meets those "in, out, and up" elements.
4. Target it first toward young adults and people who travel extensively
Young adults won't be the only demographic interested, but they tend to be keen on the convenience. Similarly, people who travel a great deal for work will often join an online group because it allows them to join their group even when they are out of town. You might pick up many parents with young children as well.
Beyond that, it's more or less a lot like in-person small groups and can be managed similarly.